StartupCity Magazine published its annual list of the "15 Most Promising biotech startups in Europe – 2019"; LipoCoat landed first place. LipoCoat started in 2016 as a spin-off company from the University of Twente, following six years of research into biocompatible coatings by founder and CEO Jasper van Weerd. Over the last three years LipoCoat has been recognized for excellence earning several awards and accolades, 15 till date.
StartupCity shortlisted the 15 most promising biotech startups in Europe
As new technologies emerge, numerous biotech startups are launched across Europe every year. With specialized venture capital firms and technology companies pouring money into the sector, biotech startups now attract a record amount of investment. As biotech startups continue to evolve by embracing new technologies, organizations must opt for solutions and services most relevant to their business requirements. To assist them with the same, a distinguished panel comprising key decision makers and experts along with StartupCity's editorial board has shortlisted some of the most promising biotech startups in Europe, with LipoCoat as the #1 company of the year.
LipoCoat has been gaining increasing interest from several medical device companies that are drawn to the uniqueness of the LipoCoat platform technology. Last year the company grew from five to eleven employees and within a year it is expected to have twenty employees.
The LipoCoat revolutionary coating technology will make any (bio)material surface non-thrombogenic, non-fouling and resistant towards surface pollution of micro-organisms and proteins. The use of LipoCoat coatings can increase the performance, comfort and safety of medical devices or enhance research applications.
"We anticipate that the first contact lenses coated with LipoCoat will be launched by the third quarter of 2020. Other target applications such as catheters enhanced by LipoCoat, are expected to become available in the course of 2022, permitted a prosperous regulatory path." says Raoul Oostenbrink, co-founder and Chief Business Development Officer of LipoCoat.
Since inception, the company has secured € 1.7 million in (pre) seed investments. Jasper van Weerd, Founder & CEO of LipoCoat "I'm very proud with our position on this list and I'm also very proud of the current team. We really have very talented people working in our laboratory. This year we are building a new research & production facility and we are on track to close a series A of € 4M."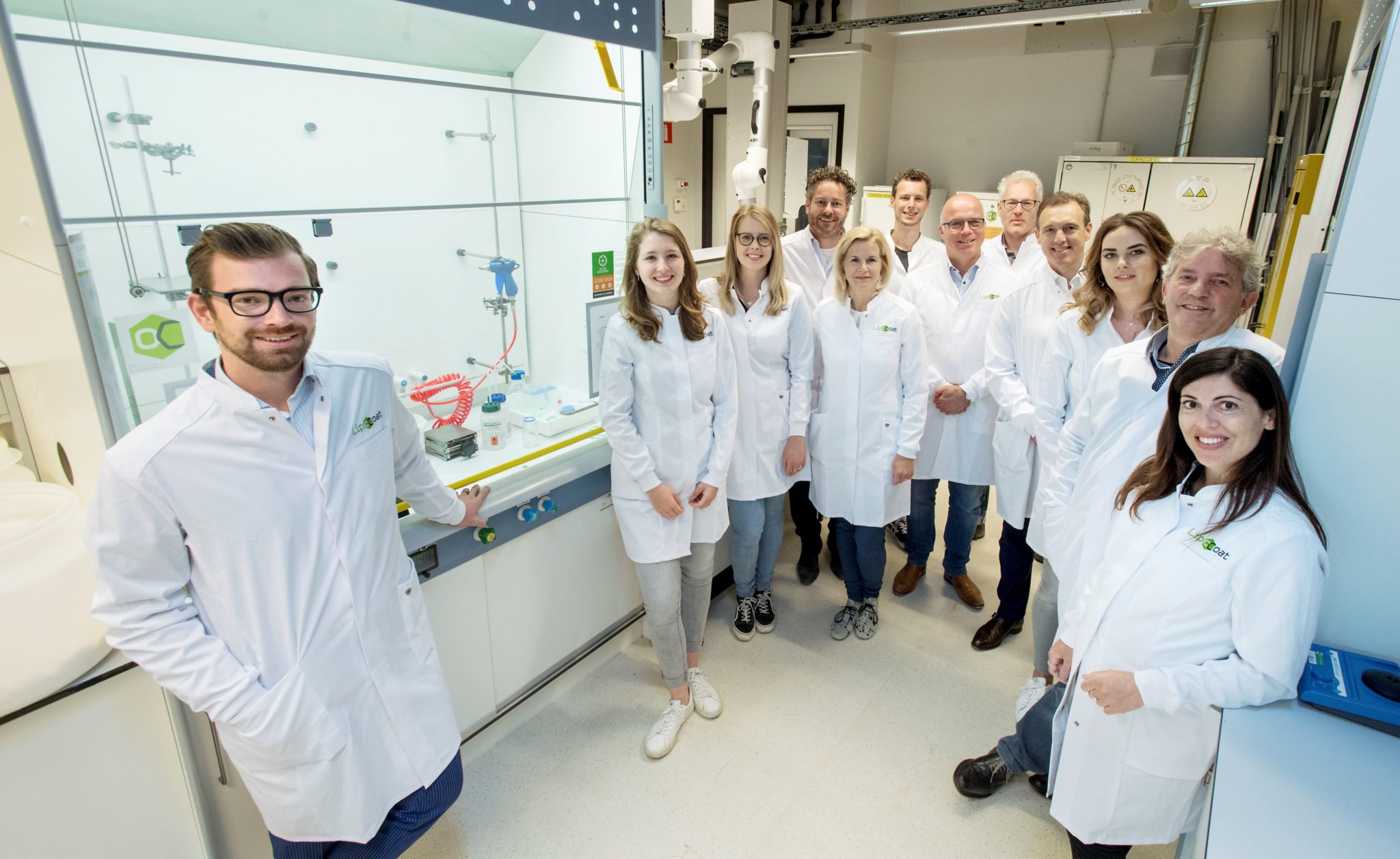 Photo: Frans Nikkels
Note for editors
Article link: https://www.startupcity.com/magazines/July2019/BioTech/#page=42
Article "Company of the Year": https://www.lipocoat.com/wp-content/uploads/LipoCoat-European-Biotech-Startup-of-the-Year-2019-.pdf
Article "Top 15 biotech startups in Europe 2019":
https://biotech-europe.startupcity.com/vendors/top-biotech-startups-in-europe-2019.html
Photo download: http://www.lipocoat.com/wp-content/uploads/LipoCoat-European-Biotech-Startup-of-the-year.jpg
More information about LipoCoat: www.lipocoat.com
Telephone office: +31 53 82 00 816
E-mail general: info@lipocoat.com

Contact persons
Raoul Oostenbrink (Chief Business Development Officer – LipoCoat)
Mobile: +31 6 1269 1978
E-mail: raouloostenbrink@lipocoat.com
Jasper van Weerd (Founder & CEO – LipoCoat)
Mobile: +31 6 2753 3824
E-mail: jaspervanweerd@lipocoat.com